Welcome to Wednesday Night League
Session 3 July 31st - October 9th
Schedule Week 8 September 18th "Playoffs week 1"
WNL NEW RULE
Each week teams MUST take at least 3 tee shots from every player throughout their match. I have adjusted the scorecard for WNL and at the bottom of each hole there will be a box for players to initial their drive. After each hole, the team must write down whose tee shot they took. By the end of the round there MUST be 3 initials per player. If a team does not use 3 tee shots they will not only forfeit the match, but lose two additional points.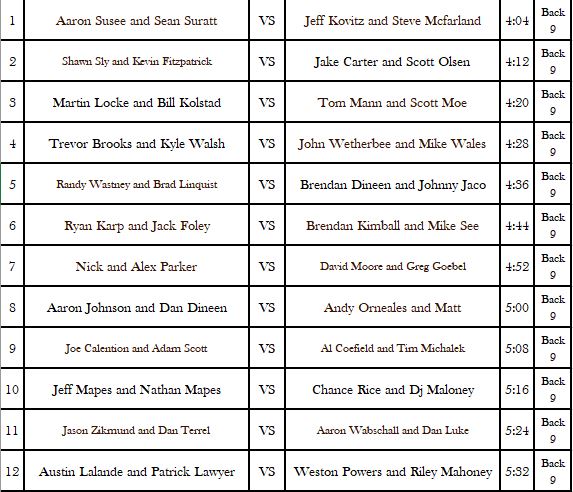 Overall Scores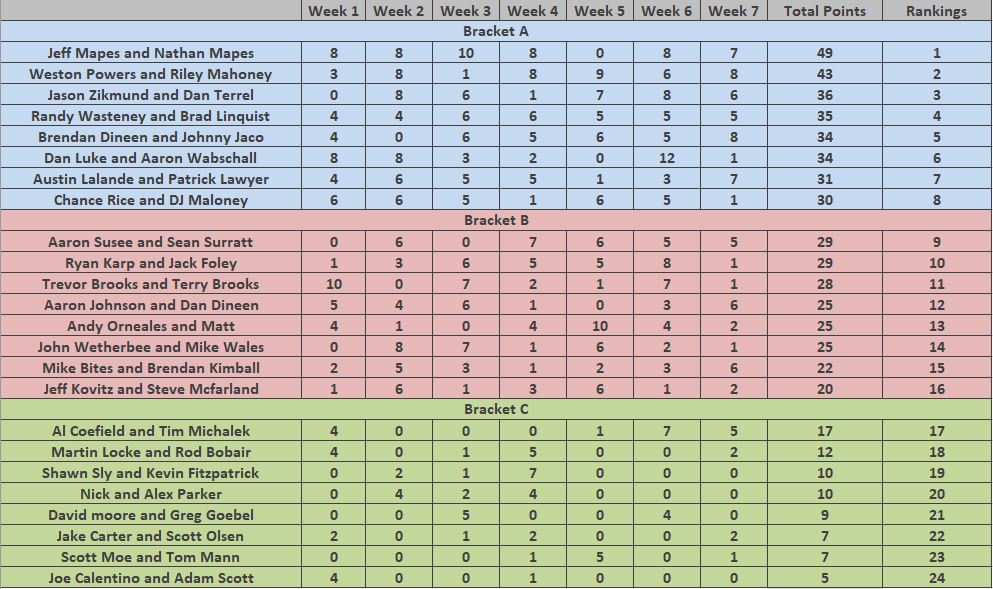 Playoffs Bracket
Session 1 March 13th - May 15th "Complete"
Bracket A
1st - Weston Powers and Aaron Wabschall
2nd - Al Coefield and Tim Michalek
3rd - Jeff Mapes and Nathan Mapes
Bracket B
1st - Terry Brooks and Trevor Brooks
2nd - Martin Locke and Bill Kolstad
3rd - Cameron Wight and Chance Rice
Bracket C
1st - Ali Najafdari and Greg Kaufer
2nd - Brad Linquist and Randy Wasteney
3rd - Mike Cokely and Dave Ruhl
Session 2 May 22nd - July 24th "Complete"
Bracket A
1st - Weston Powers and Riley Mahoney
2nd - Jeff Mapes and Nathan Mapes
3rd - Aaron Wabschall and Dan Luke/Dave Baker and Riley Baker
Bracket B
1st - Cameron Wight and Chance Rice
2nd - George Cook and Mike Miller
3rd - Jake Carter and Scott Olsen
Bracket C
1st - Sterling Logan and Adam Strachan
2nd - Al Coefield and Tim Michalek
3rd - Aaron Susee and Sean Suratt / Andy Ornealas and Matt
Bracket D
1st - Scott Moe and Tom Mann
2nd - David Moore and Greg Goebel
3rd - Mike Bites and Brendan Kimball
KP - #12 Jason Zikmund
KP - #14 Cameron Wight